Posted in
Apache Kafka
,
Big Data
,
Docker
,
Java / JEE
,
Kafka Streams
,
KSQL
,
Kubernetes
,
Messaging
,
Microservices
,
Open Source
,
Stream Processing
on March 13th, 2018 by admin
I presented at JavaLand 2018 in Brühl recently. A great developer conference with over 1800 attendees. The location is also awesome! A theme park: Phantasialand. My talk: "New Era of Stream Processing with Apache Kafka's Streams API and KSQL". Just want to share the slide deck…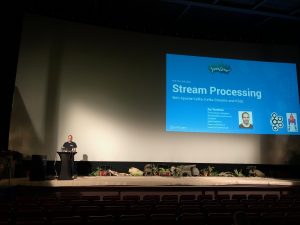 Abstract
Stream Processing is a concept used to act on real-time streaming data. This session shows and demos how teams in different industries leverage the innovative Streams API from Apache Kafka to build and deploy mission-critical streaming real time application and microservices.
Tags:
Apache
,
Confluent
,
kafka
,
kafka streams
,
KSQL
,
open source
,
Stream Processing