Posted in
Apache Kafka
,
Big Data
,
Kafka Streams
,
KSQL
,
Open Source
on November 15th, 2018 by Kai Wähner
In November 2018, I was back in Madrid to speak at Big Data Spain. A great event all about big data, analytics and machine learning. One of the largest tech companies in Spain. A perfect event to talk about KSQL – The Streaming SQL Engine for Apache Kafka.
Big Data Spain is held in Kinepolis, a big cinema. One of my favorite locations for a tech conference – for speakers and audience.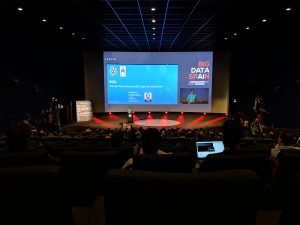 All talks at Big Data Spain are recorded. Video recording and slides below.
Tags:
Analytics
,
Apama
,
apex
,
Big Data
,
flink
,
IBM
,
kafka
,
kafka streams
,
KSQL
,
open source
,
Oracle
,
Software AG
,
Spark
,
Spark Streaming
,
Storm
,
Stream Processing
,
Streaming Analytics
,
TIBCO