Welcome to my website. My name is Kai Waehner. I live near Erlangen, Germany and work as Technology Evangelist for Confluent – a Silicon Valley startup focusing on the open source project Apache Kafka to build mission-critical, scalable, streaming infrastructures for tech giants, modern internet startups and traditional enterprises.
My main area of expertise lies within the fields of Big Data, Advanced Analytics, Machine Learning, Deep Learning, Integration, Microservices, BPM, Cloud / Hybrid Architectures, Internet of Things, Blockchain and Programming Languages such as Java, Scala, Groovy, Go, Python and R. I regularly write about new technologies, articles and conference talks on my blog. From time to time, I also write some code and post it on Github, for instance some implementations of "Real Time Machine Learning with Kafka and TensorFlow".
I also post on the Confluent Blog regularly.
I feel honored to be a MVB (Most Valuable Blogger) at the JAVALOBBY of DZone.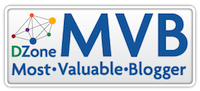 Many of these articles are also published at Java Code Geeks, as I am a member of the Java Code Geeks (JCG) Program, too.