The IT world is moving forward fast. The digital transformation changes complete industries and peels away existing business models. Cloud services, mobile devices and the Internet of Things establish wild spaghetti architectures though different departments and lines of business. Several different concepts, technologies and deployment options are used. A single integration backbone is not sufficient anymore in this era of integration. Therefore, a Hybrid Integration Architecture is getting the new default in most enterprises.
Different user roles need to leverage different tools to integrate applications, services and APIs for their specific need. A key for success is that all integration and business services work together across different platforms in a hybrid world with on premise and cloud deployments.
Hybrid Integration Platform
"Hybrid Integration Platform (HIP)" is a term coined by Gartner and other analysts. It describes different components of a modern integration architecture.
One of the keys for success in today's more and more complex world is that different platforms work together seamlessly. Different components share interfaces and metadata and allow consolidated operations management. API Management is often used as a mediator between interfaces to encourage an agile and innovative enterprise culture – internally; as well as between partners; and for public external communication.
Leveraging a well-conceived hybrid integration architecture allows different stakeholders of an enterprise to react quickly to new requirements. Mission critical core business processes (also called "core services") are still operated by the central IT department and change rather infrequently. On the other side, the line of business needs to try out new business processes quickly, or adapt existing ones, in an agile way without being delayed by frustrating rules and processes governed by the central IT. Innovation by a "fail-fast" strategy and creating so called "edge services" is getting more and more important to enhance or disrupt existing business models.
The following picture shows possible components of a Hybrid Integration Platform: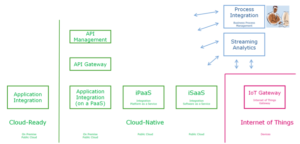 If you want to learn more about all these components and how they relate to cloud-native concepts like microservices and containers, please take a look at the Voxxed article "The Need for a Hybrid Integration Architecture".